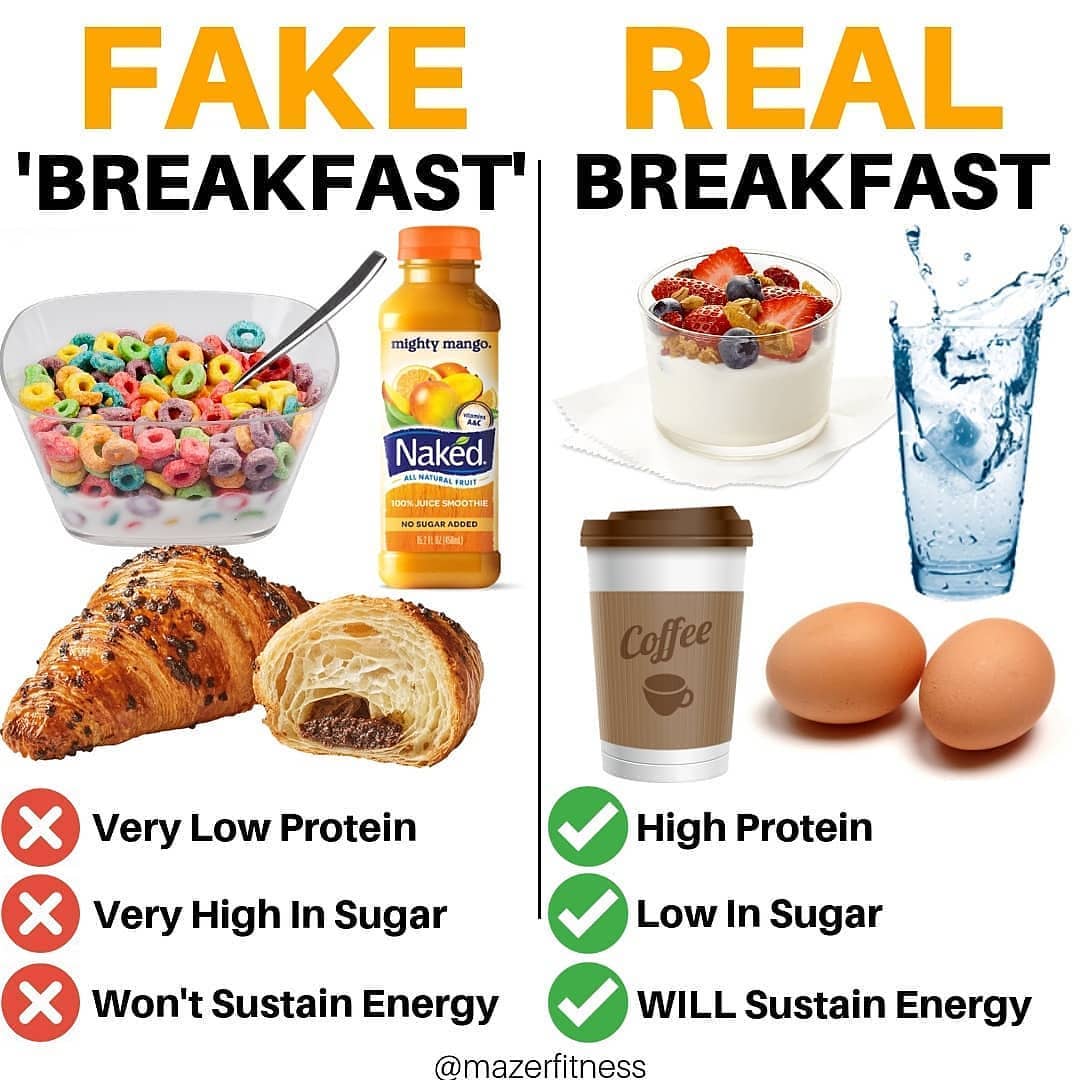 Real/fake, whatever I just had to come up with 2 terms that would catch your eye! Gehe! But if you only read the headlines and don't read the caption, you will probably derive ZERO value from this post.
–
Now I have your attention, the reason that you might be experiencing huge energy slumps in the morning might be caused by what you're eating at breakfast!
–
If you're having issues with your energy levels in the morning, a high protein low-ish carb breakfast you might experience more energy in the mornings!
–
BUT, if you're working out first thing in the morning, having some fruit loops might be a good option. This is where context comes into play and where these infographics lack. I don't want you to start to think that one is worse than the other. It ALL depends on context. –
But as always, figure out what works for you and stick with it!!
–
Also, if weight loss is your goal, you will be better off sticking to the right side. More filling, less calories. That's what it's all about right?
–
What's your favorite breakfast? Let me know in the comments!??
–
♥️Much love, Dennis
–
P.s. I'm opening up a few more private coaching spots and will be announcing this on my story later today. If you want to join my private coaching program and want to be considered first, head on over to the link in my bio
.
.
.
.
#healthy #fitness #fit #gym #workout #motivation #health #lifestyle #bodybuilding #training #diet #fitspo #instagood #strong #fitnessaddict #fitnessmodel #fitfam #cardio #eatclean #exercise #fitnessmotivation #cleaneating #food #photooftheday #getfit #healthychoices #love #train #healthylifestyle #bhfyp??
Source