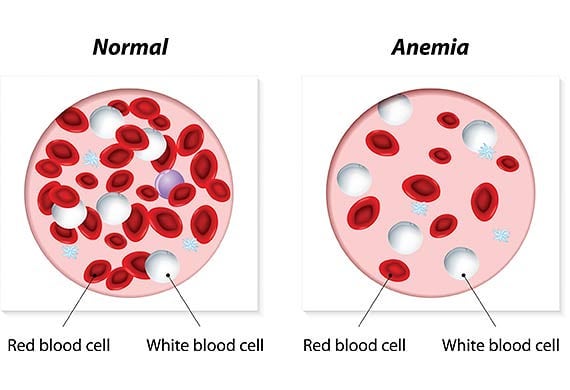 Anemia.
.
Anemia  is a condition that develops when your blood lacks enough healthy red blood cells or hemoglobin. Hemoglobin is a main part of red blood cells and binds oxygen. If you have too few or abnormal red blood cells, or your hemoglobin is abnormal or low, the cells in your body will not get enough oxygen and nutrients.
When the liver is damaged, as in cirrhosis, its production of these proteins declines, and low blood levels of the substances can signal liver damage. … Also, it is not uncommon for people withcirrhosis to have a low red blood cell count, or anemia, which can be detected by measuring hemoglobin levels.
Young women are twice as likely to have anemia than young men because of regular menstrual bleeding. Anemia occurs in both young people and in old people, but anemia in older people is more likely to cause symptoms and be related to serious, underlying conditions.
Symptoms of anemia may include the following:
fatigue;
decreased energy;
weakness;
shortness of breath;
lightheadedness;
palpitations (feeling of the heart racing or beating irregularly); and
looking pale.
Symptoms of severe anemia may include:
chest pain, angina, or heart attack;
dizziness;
fainting or passing out; and
rapid heart rate.
Contact @herbsandtibb, for every Ailment there's a natural cure.
#herbsandtibb #herbsandhealth #anemia #lagosnigeria #abujanigeria #abuja #nigeria #naija #joroolumofin #bbnaija2019 #abujamarket #jagabanfair #jagabanofinstagram #naijahustlers #naijastartups #naijaconnect #naijawedding #naijabrandchick #lagosvendors #naijaentrepreneur #herbsnaija #instanaija #instablog9ja #naijamarket
#naijabrands
Source