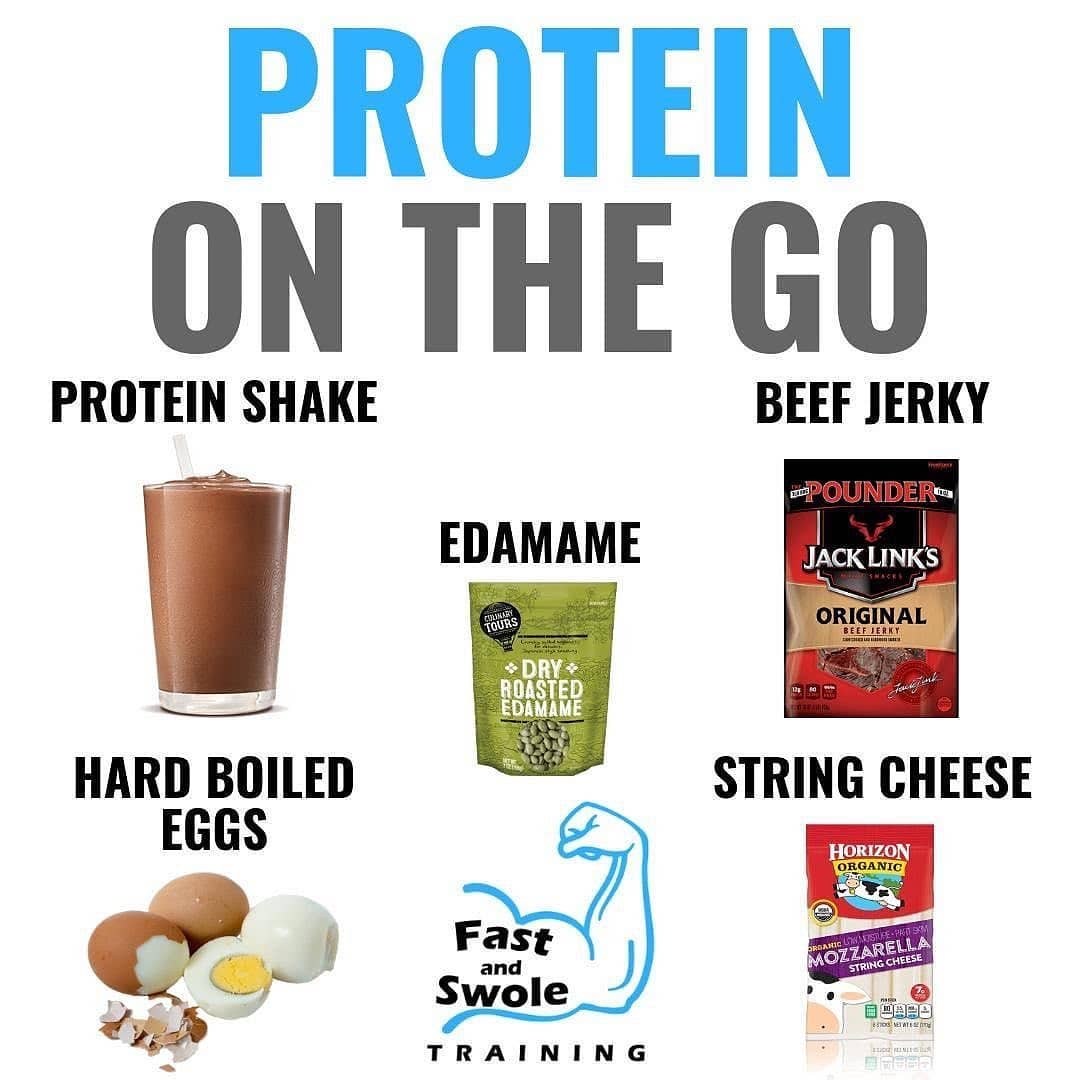 💥PROTEIN ON THE GO💥
Please follow @bodybuilding.tricks for more great content!!💪💯
Here is a perfect guide of 5 simple and easy high protein snacks that you can take with you anywhere and prepare in little to no time!
–
PROTEIN SHAKE (~20-25g of Protein)
One of the most well known and easy options! If you're in a rush just mix a few scoops with water and you're on your way! I prefer choosing a high quality protein powder that has great mix-ability so I can shake it together easily without dirtying a blender!
–
BEEF JERKY (12g Protein per oz)
A delicious snack that is easy to take anywhere! At a whopping 12g of protein per oz, this is a great high protein snack on the go!
–
HARD BOILED EGGS (6g Protein per egg)
At 6g of protein per egg, hard boiled eggs are a great option to throw in some Tupperware and take with you to the office. Add salt or pepper for some extra flavor!
–
EDAMAME (18g Protein per 50g serving)
A highly underrated, and high protein snack right here. I know the soy police are going to come out now, "You're estrogen is going to go up bro!" The truth is getting some, and I mean a little in the grand scheme of things of your protein of soy is going to have little to no impact on your estrogen levels. So enjoy these tasty bad boys!
–
STRING CHEESE (7g of protein per stick)
At a 7g of protein per stick and only 80 calories, these are a great on the go option! Also one of my personal favorites!
–
What is your favorite high protein snack to take on the road? Comment below!
Credit to @fastandswole for the graphic.
#training #gym #fitness #workout #motivation #fit #bodybuilding #health #strong #lifestyle #healthy #diet #fitspo #cardio #fitnessmodel #exercise #fitnessaddict #instagood #train #fitnessmotivation #fitfam #active #muscle #getfit #eatclean #gymlife #determination #instahealth #sport #bhfyp💪💪💯
Source