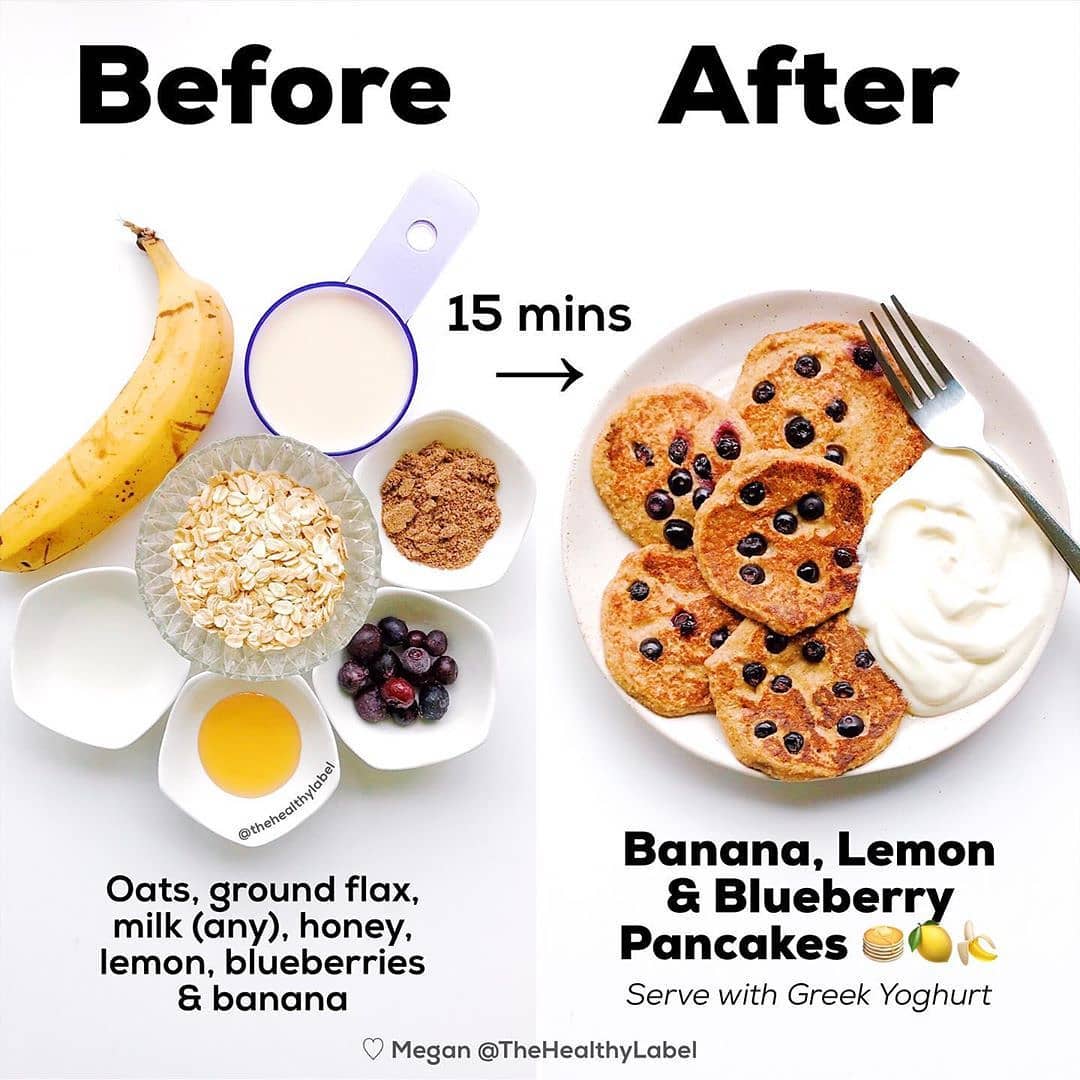 I've fallen in love… with BANANA, LEMON and BLUEBERRY in my baking & breakfasts! ??? These pancakes are plant based, with super nourishing ingredients! Including healthy fats from the flax meal and vitamin C from the lemon + blueberries ? Pair them with Greek yoghurt for a boost of protein ? ? Go to my story highlights on my profile for a fun video tutorial!
INGREDIENTS
• 1/2 cup oats
• 1 tbsp flax meal
• 1/2 large ripe banana
• 1/2 cup milk (I used almond)
• 2tsp lemon juice
• 1-2 tsp honey
• handful of blueberries
• coconut oil or light EVOO, to cook
METHOD
1️⃣ In a blender, grind oats and flax into a powder.
2️⃣ Add the banana, milk, lemon juice and honey, and blend again. Let the mixture sit for a few minutes (it will thicken up from the flax).
3️⃣ Start adding spoonfuls of batter to a pan on low-medium heat (lightly coated w/oil), using the spoon to make each pancake round.
4️⃣ Place a few blueberries onto each pancake and gently press down. Flip when edges turn brown.
5️⃣ Transfer to a plate, pair with toppings of choice, and ENJOY ?
⠀⠀⠀⠀⠀⠀⠀⠀⠀⠀
?‍♀️ Are you a fan of this combo? I want to know — what would you add on top? The options are endless: nut butter, walnuts or pecans, drizzle of honey, hemp seeds, strawberries etc. — ? Meg xo
⠀⠀⠀⠀⠀⠀⠀⠀⠀⠀
#healthyfood #instahealth #determination #gymlife #muscle #nutrition #foodporn #foodie #body #like #weightloss #happy #fashion #sport #instafit #life #abs #vegan #follow #gymmotivation #inspiration #instafood #fitnessjourney #yummy #gains #healthyeating #model #beauty #picoftheday #style??
Source