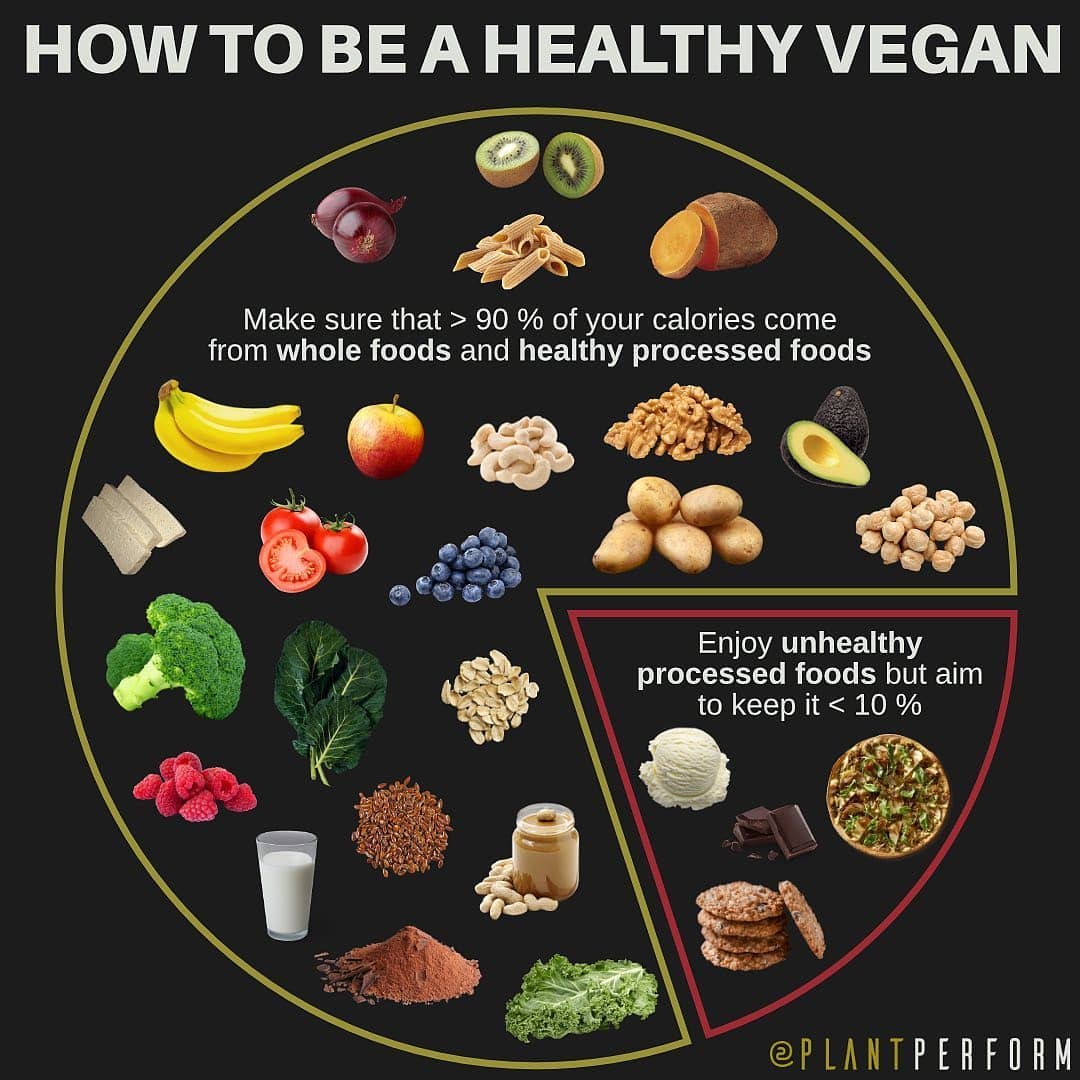 How to be a healthy vegan ?⠀ ⠀
In order to thrive on a vegan diet, it is necessary to ensure that the vast majority of your calories comes from whole foods and, to a lesser degree, healthy processed foods.⠀
⠀
Enjoying unhealthy processed foods in moderation is unlikely to have detrimental effects and in order for a diet to be sustainable, it is advisable not to completely forbid yourself to eat certain foods.⠀
⠀
However, if you're suffering from health conditions already and seek to improve or reverse them, I would advise you to eliminate unhealthy processed foods from your diet entirely.⠀
⠀
So what are whole foods, healthy processed and unhealthy processed foods? ⠀
⠀
✅ WHOLE FOODS⠀
Foods that are left in their natural state.⠀
⠀
✅ HEALTHY PROCESSED FOODS⠀
Minimally processed foods that do not contain any unhealthy ingredients. Examples are plant milks, nut butters, tomato juice etc.⠀
⠀
❌ Unhealthy processed foods⠀
Heavily processed foods that contain unhealthy ingredients such as salt, sugar, or trans-fats. Examples are vegan meat and cheese alternatives etc.⠀
⠀
In my opinion, being a healthy vegan is not only great for yourself but also a great way of passively spreading awareness, as it challenges common stereotypes.⠀
⠀
What do you think? Do you care about your health or are you vegan purely for the animals and our enviroment?⠀
Let me know in the comments. ⬇️? Credit:@plantperform
#healthy #fitness #fit #gym #workout #motivation #health #lifestyle #bodybuilding #training #diet #fitspo #instagood #strong #fitnessaddict #fitnessmodel #fitfam #cardio #eatclean #exercise #fitnessmotivation #cleaneating #food #photooftheday #getfit #healthychoices #love #train #healthylifestyle #bhfyp??
Source