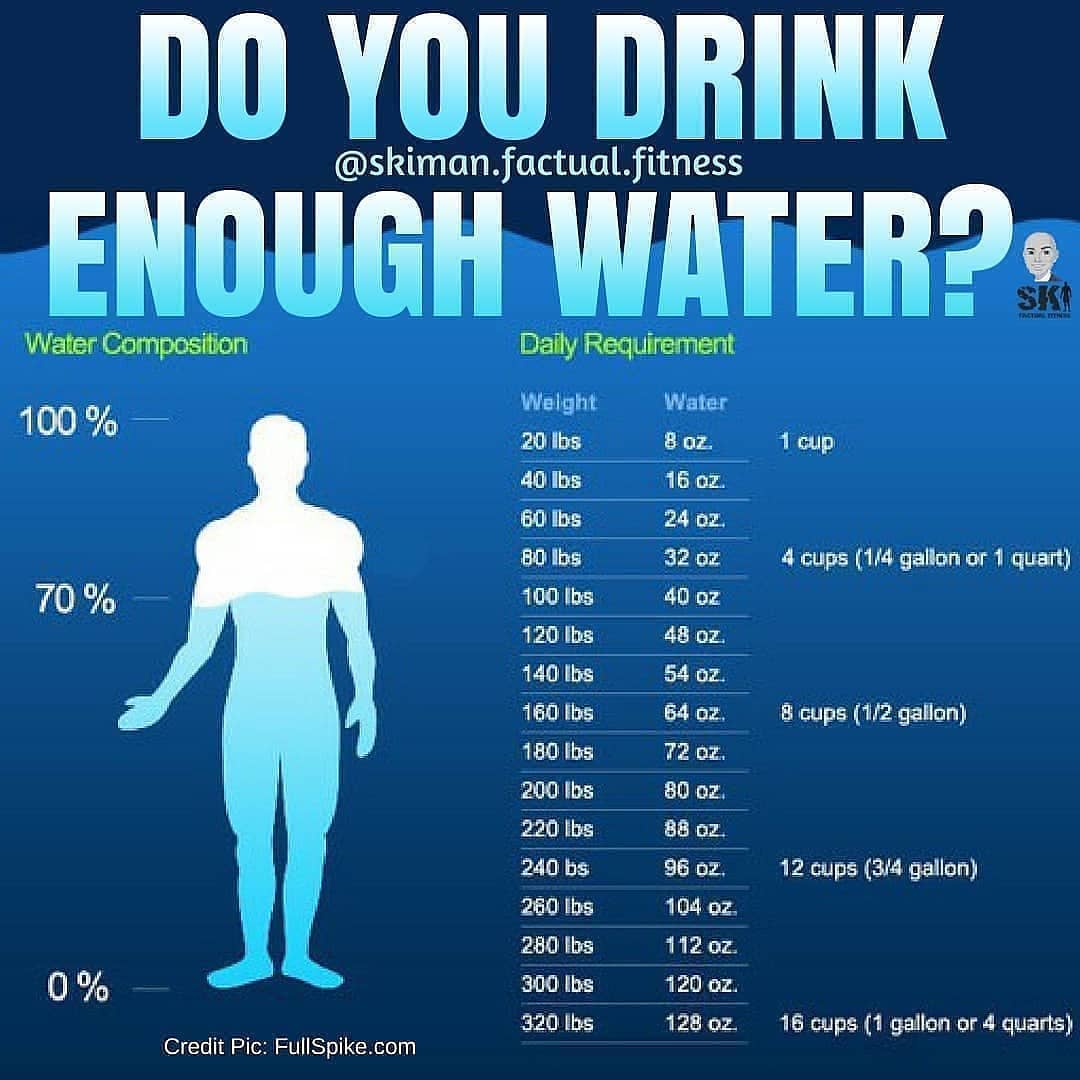 DO YOU DRINK ENOUGH WATER?
Please follow @bodybuilding.tricks for more great content!!💪💯 by @skiman.factual.fitness
⠀⠀⠀⠀⠀⠀⠀⠀⠀
So for the most part this is pretty individualized but there are a few recommendations.
⠀⠀⠀⠀⠀⠀⠀⠀⠀
The water you drink or should be accounted for as separate from any other fluids you may consume during your day.
⠀⠀⠀⠀⠀⠀⠀⠀⠀
The average human being for the most part really should be consuming 4 quarts per day but if you wanted to go on the route of how much you need, just divide your body weight by half and you should be drinking that in oz. So for a 200lbs male, 100oz and a 100lb female it would 50oz.
⠀⠀⠀⠀⠀⠀⠀⠀⠀
Keep in mind the more water you drink, more you will urinate, also to be mindful is the amount of salt you will lose by drinking more water. About half a teaspoon is recommended for every quart of water you ingest. Hence why when an individual asks me about my sodium intake, I can justify that I truly am in need of more salt because of my water intake. Also salt is important as it provides the minerals that aid in cramping, strong bones, etc. as it works in conjunction with other minerals such as potassium and magnesium.
⠀⠀⠀⠀⠀⠀⠀⠀⠀
Signs of dehydration can easily be seen in the color of your urine. When you are drinking enough water, your urine should be light yellow. This is a clear indication that you are well hydrated.
⠀⠀⠀⠀⠀⠀⠀⠀⠀
I normally keep a gallon jar on my desk at work to insure I hit my water intake and try to finish it by EOD.
⠀⠀⠀⠀⠀⠀⠀⠀⠀
Anyways, drink water when your thirty, stop when your not and always drink water before hand on training days and you should be fine.
⠀⠀⠀⠀⠀⠀⠀⠀⠀
Hope that helps!
If you made it this far, please comment below "WATER" or tag/share with a friend as it helps me to see that I'm making a difference in your fitness goals. -Ski
–
–
#training #gym #fitness #workout #motivation #fit #bodybuilding #health #strong #lifestyle #healthy #diet #fitspo #cardio #fitnessmodel #exercise #fitnessaddict #instagood #train #fitnessmotivation #fitfam #active #muscle #getfit #eatclean #gymlife #determination #instahealth #sport #bhfyp💪💯
Source