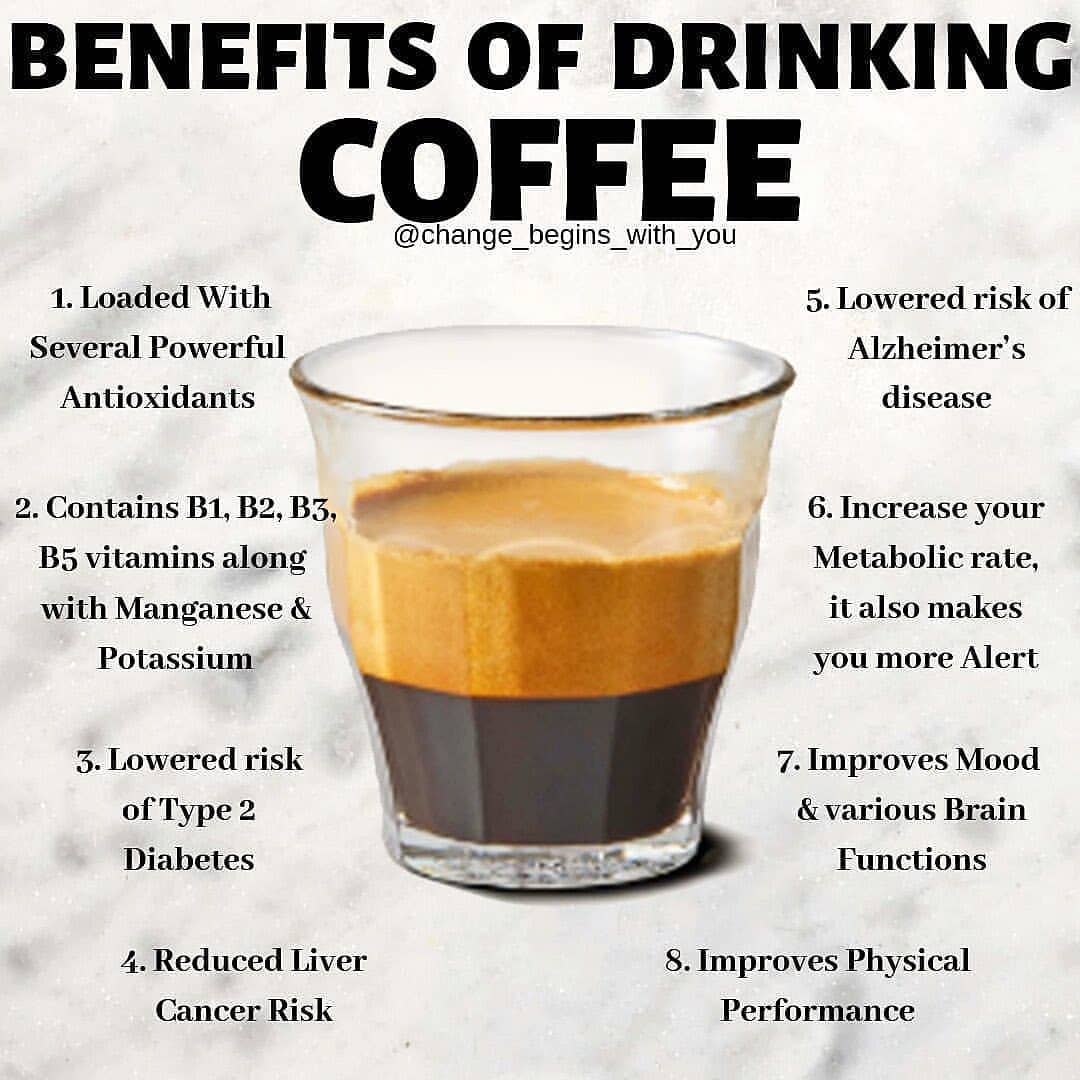 Coffee isn't just tasty & energising it also has a lot of benefits that are good for you.
In recent years and decades, scientists have studied the effects of coffee on various aspects of health.
Their results have been nothing short of amazing.
Coffee ☕️ doesn't just keep you awake – it may also make you smarter 😇. Many studies have examined the effects of caffeine ☕️ on the brain, demonstrating that caffeine can temporarily improve mood, reaction time, memory, vigilance and general brain function.
Caffeine ☕️ blocks an inhibitory neurotransmitter in the brain, which has a stimulating effect. Controlled studies show that caffeine improves both mood and brain function.
Caffeine ☕️raises metabolic rate and helps mobilise fatty acids from fat tissues. It can also enhance physical performance.
Drinking ☕️ coffee is associated with a drastically reduced risk of type 2 diabetes.
People who drink several cups per day are the least likely to develop diabetes.
In prospective studies, coffee ☕️ drinkers have up to a 60% lower risk of Alzheimer's and dementia.
Coffee ☕️ appears to be protective against certain liver disorders, lowering the risk of liver cancer by 40% and cirrhosis by as much as 80%. One recent study showed that coffee ☕️ drinkers had a 30% lower risk of death during a 20-year period.
Coffee contains antioxidants, vitamins B and minerals…
For most people, coffee can be a healthy part of the diet.
It is fine to enjoy a couple of cups a day.
However, coffee ☕️ may not be beneficial for everyone.
Those with certain heart 💓 conditions, caffeine sensitivity, and women who are pregnant 🤰🏻 should stick to decaf or tea 🍵.
. .
Via
@change_begins_with_you .
. .
.
.
.
.
.
Double tap to ❤❤❤
.
.
.
.
.
#wellness #caffeine #healthychoice #wholefoods #easyreceipe #foodcomparision #transformation #weightlossjourney #weightlosstips #notadiet #gymdiet #workouts #healthyswaps #bbgprogress #bbgnutrition #lowcarb #lowcarbfoods #nutritioncoach #nutritional #oats #banana #eggs #diaryproducts #healthylifestyle #carbohydrates #fat #vitamins #muscleups #gymshark
Source