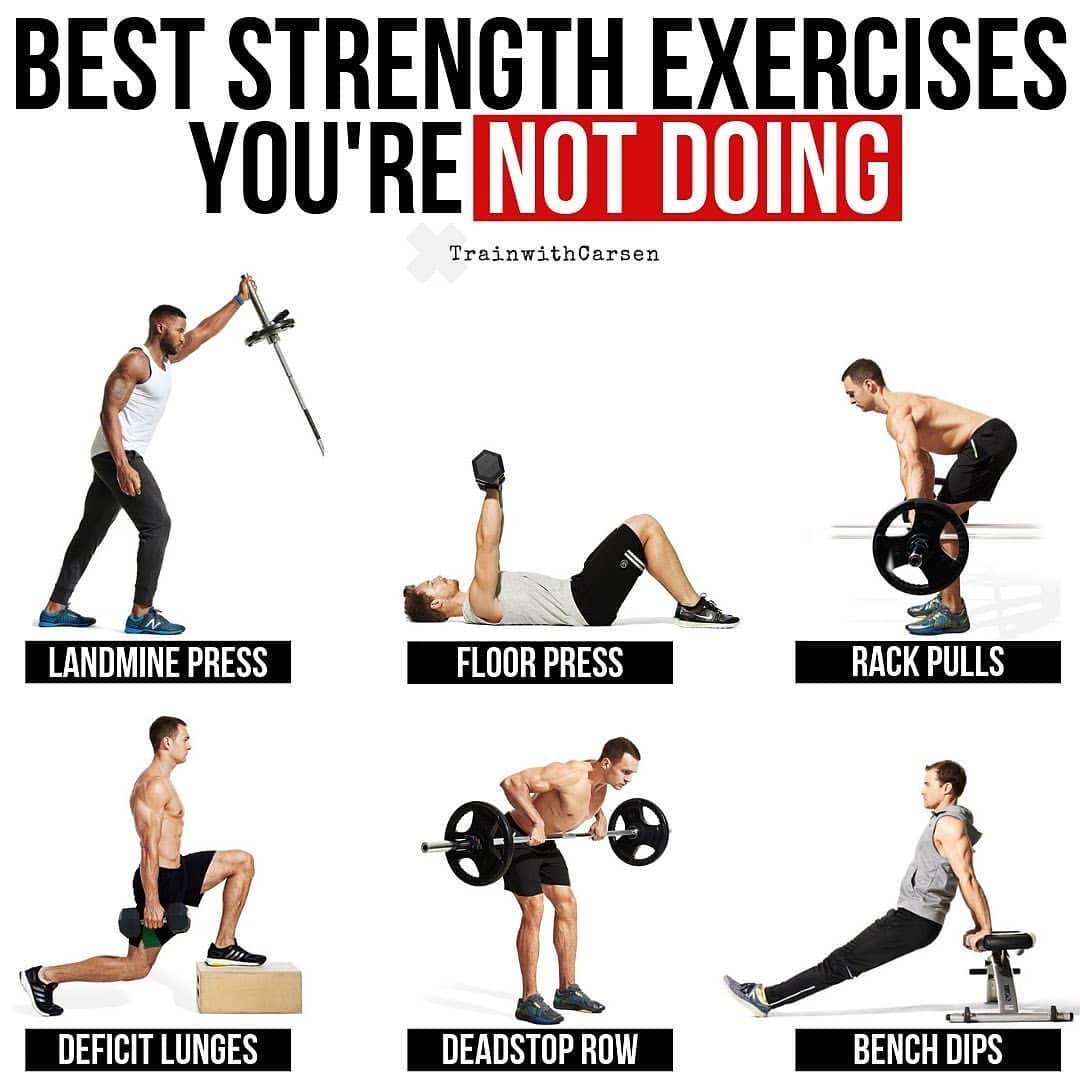 Best Strength Exercises You're NOT Doing ⠀
_⠀
⠀
Please follow @bodybuilding.tricks for more great content!!??
LANDMINE PRESS⚡️ – an excellent standing movement press that allows you to isolate each individual shoulder while also forcing your core to work overtime. ⠀
_⠀
⠀
FLOOR PRESS⚡️- a safe and effective chest press variation that allows you to load up the pecs while staying in a controlled and safe range of motion, keeping your shoulders healthy and happy. ⠀
_⠀
⠀
RACK PULLS⚡️- an excellent way to challenge the posterior chain without the full deadlift movement from the floor. Can be great for strengthening the second half of your deadlift movement. ⠀
_⠀
⠀
DEFICIT LUNGES⚡️- this movement allows you to increase the range of motion and time under tension since your knee is no longer limited by the floor. This will be sure to tap into some new muscle fibers=more muscle growth.⠀
⠀
_⠀
⠀
DEADSTOP ROW⚡️- this row variation allows you to reset your form on each rep, and strictly focus on max pull strength. Great for building a stronger back.⠀
⠀
_⠀
⠀
BENCH DIPS⚡️- no, this movement is not just for beginners who can't dip on the dip bars. This is a great movement to light up your triceps and shoulders. Don't hesitate to add a weight plate to your lap to make things more challenging. ⠀
⠀
via @trainwithcarsen⠀
_____________⠀
⠀
#training #gym #fitness #workout #motivation #fit #bodybuilding #health #strong #lifestyle #healthy #diet #fitspo #cardio #fitnessmodel #exercise #fitnessaddict #instagood #train #fitnessmotivation #fitfam #active #muscle #getfit #eatclean #gymlife #determination #instahealth #sport #bhfyp??
Source