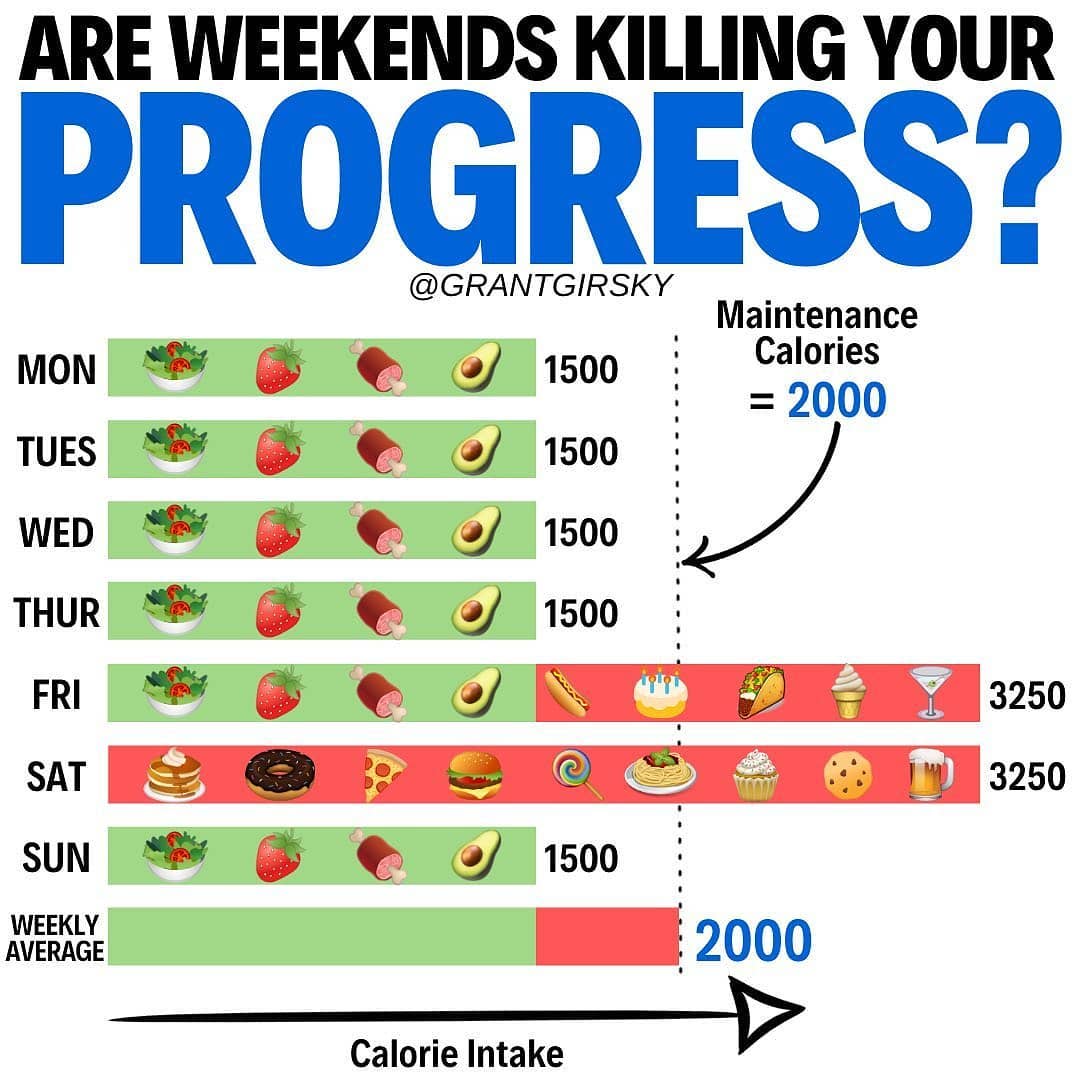 ARE WEEKENDS KILLING YOUR PROGRESS?
Please follow @bodybuilding.tricks for more great content!!💪💯 by @grantgirsky
⠀
Does this sound familiar…? 👇
⠀
You're 100% dialed in, on track during the week…sticking to your diet plan meticulously & crushing your workouts.
⠀
By the time the weekend rolls around, you feel as if you "deserve" to let loose a little bit…
⠀
You continue this pattern over time…yet, have no idea why you aren't seeing the progress you deserve?
⠀
My one recommendation…
⠀
👉 Audit. Your. Weekends. 🤔
⠀
Going off the rails on the weekends can be one of THE BIGGEST factors sabotaging your progress!
⠀
Many people don't realize the effect a weekend of mindless eating and drinking can have on their fat loss goals…
⠀
You can be completely locked in during the week, but you truly can negate all that progress in a weekend.
⠀
For example:
⠀
Let's take someone with a calorie maintenance of 2,000 calories, meaning they won't gain or lose weight if they consume that amount.
⠀
They average about 1,500 calories per day during the week, which would leave them in a calorie deficit & lead to weight loss.
⠀
However!
⠀
On Fri & Sat…they go crazy and consume roughly 3,250 calories over those two days, raising their calorie intake average for the week up to 2,000 calories per day.
⠀
Listen…
⠀
Those two days alone are enough to completely halt fat loss for the entire week, even though Mon-Thur (& Sun) were locked in and on point.
⠀
Enjoy yourself & especially your weekends, but be aware of the effect they can have on the hard work you've put in all week beforehand.
⠀
Have a plan going into the weekend…
⠀
It's totally possible to still enjoy yourself but also continue to progress towards your goals.
⠀
Tag a friend that needs to see this!
#cleaneating #healthychoices #love #body #crossfit #instafit #personaltrainer #gymmotivation #like #mma #gains #strength #boxing #running #nutrition #abs #shredded #fashion #inspiration #yoga #follow #girl #fitlife #work #fitgirl #healthylifestyle #model #calisthenics #kickboxing #bhfyp💪💯
Source