Austin news, business, culture and entertainment – delivered to your inbox, every morning.
(Austonia)
Currently reading this with itchy eyes or a runny nose? You're not alone—while Ausitnites are rarely given relief from yearlong allergies, the spring season brings on new concerns as pollen levels continue to rise.
According to The Weather Channel, tree and grass pollen in the air is reaching highs as spring goes into full bloom. But the same things that give plants green leaves and vibrant flowers could be causing a variety of allergy symptoms, especially to those irritated by oak pollen.
While the dreaded "cedar fever" has tapered off, oak pollen counts reached a peak of 6,227 grams per meters cubed Sunday and remain at high levels alongside hackberry. Ash levels have fluctuated between medium and low levels in the last week.
Oak allergens typically peak as March transitions to April, while pecan pollen levels peak slightly later at the end of April. Elm and ash tend to taper off by the end of April, while grass allergens are expected to reach very high levels this week and remain high through early summer.
Oak allergens affect around 30% of those with allergies and cause these symptoms:
So how do you survive the "Allergy Capital of the World"?
It could be a good idea to stock up on those allergy meds and take your daily dosage before the day begins.
But Dr. Tenesha Wards, a local functional medicine expert who is often asked about tips at this time of year, favors more holistic and natural remedies, including:
If you're still feeling miserable, your family doctor and various allergy docs around Austin can help with other treatment options as well.
(Laura Figi/Austonia)
With another pandemic winter behind us and the threat of omicron waning, workers are grabbing their briefcases and heading back to the office.
Kastle Systems, a property technology company, reports almost 62% of Austin metro offices were occupied as of March 30, a figure that jumped nearly 9% from the week before then. It's higher than what's seen in Dallas and Houston and even metros on the coast.
This return to the office in Austin and elsewhere is being driven in part by big tech.
For example, some Google employees returned to the office months ago. Last month, Google said it expected most workers to return to offices three days a week and have two days of remote work by this month.
Starting next week, Apple will ease out of remote work by starting a hybrid schedule that requires two in-office days weekly and tacks on another in late May.
Reporting from the Wall Street Journal noted that Meta CEO Mark Zuckerberg and other leadership at the company work from Hawaii, Cape Cod and Europe though workers made a return to the office on March 28.
This increased office activity means downtown Austin is bustling once again for office workers, influencers and people looking for entertainment. TikTokers are pointing to their favorite dining spots like the Fareground Food Hall. Castle Hill Fitness just brought back weekly workouts for yoga, dance and cardio. The Paramount Theatre is hosting a comedy festival this month while venues like ACL Live and Stubb's Bar-B-Q have regular shows slated for the spring and summer.
This liveliness is only the start. With tower announcements and leases from giants like Meta and TikTok pouring into downtown, there's bound to be even more activity in and outside the office in the coming months and years.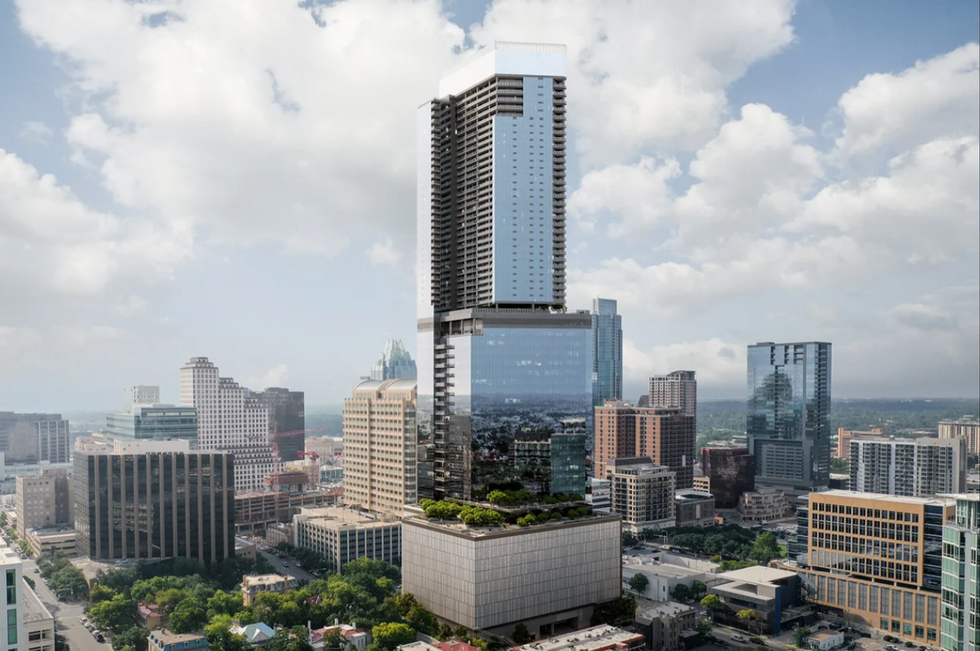 Sixth of Guadelupe will lease all 33 of its commercial floors to Facebook parent company Meta.
A February study from the Pew Research Center shows 60% feel less connected to their coworkers now, showing a want for back to office work. Still, a majority, 61%, say they are choosing not to go into their workplace.
Andrew Brodsky, a professor at the McCombs School of Business at the University of Texas at Austin, says labor market conditions are favorable to employees at this point in time.
In the case employees don't want to return to the office, they can find a company that will allow remote work.
"Part of what organizations are struggling with is that some employees really want to come back to the office because they like that collegiality, they're much more productive in the office and other ones want to just continue working virtually," Brodsky said. "So there's a little bit of conflict from two sides about how to remediate that."
Different incentives, such as Google reimbursing workers for a subscription to e-scooter maker Unagi or allowing hybrid schedules, could be part of the solution for companies to get employees back in the office and fill newly-leased buildings.
EO59 and highway operators partnered up to use satellites for roadway maintenance. (SH 130 Concession Company)
Satellite technology could make your next trip between Austin and San Antonio a little easier.
A tech startup known as EO59 will have satellites pass over the increasingly popular SH 130 toll road between Austin and the Alamo City every six days to monitor roadway maintenance conditions.
By providing measurements on more than 30,000 points along the roadway, the concession company operating the southern section of the highway boasts that the satellites will evaluate roadway conditions with millimeter accuracy.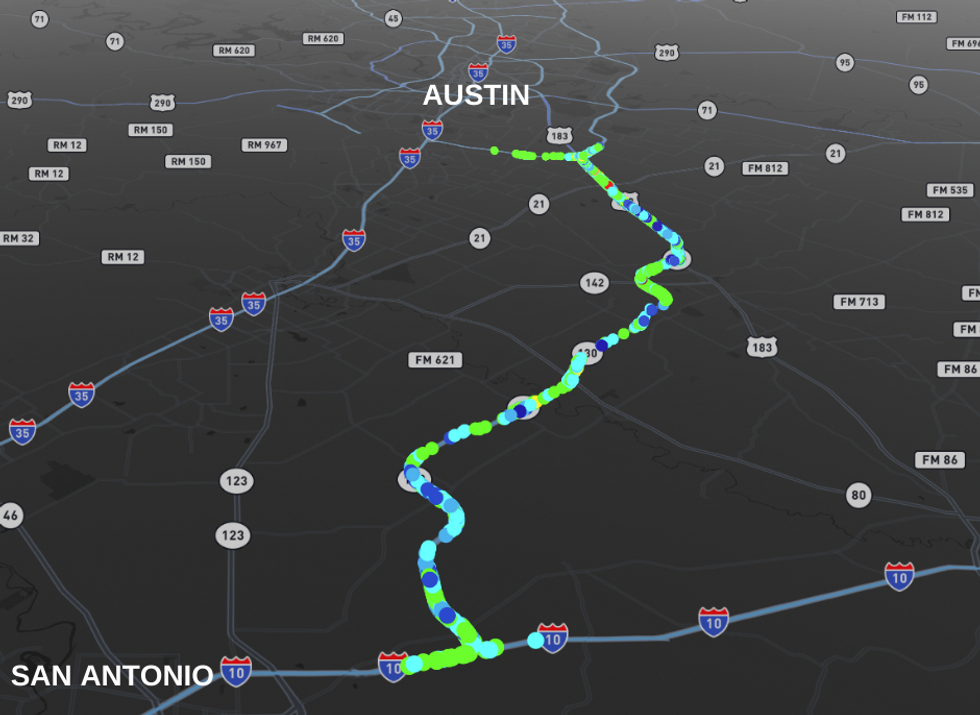 Doug Wilson, CEO of SH 130 Concession Company, said it's a proactive approach that will allow issues to be addressed before it impacts safety or ride quality.
"The Austin-San Antonio corridor is booming, and SH 130 will be increasingly important as more people and goods move through the region. It's imperative that we continue to implement innovative solutions that keep SH 130 a safe and predictable route for many years to come."